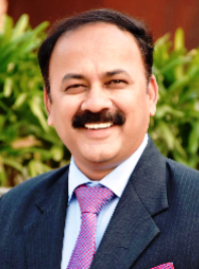 Dear friends,
Greetings! On behalf of Academy Of Pediatric Neurology First I congratulate all Neurology Chapter members for receiving "Best chapter award" from central IAP, a proud moment. This is First time that IAP Neurology Chapter received the award since its inception i.e. 20 years.
I want to thank Chairman Dr. K.P. Sarbhai who gave me free hand to work, so we could do so many activities for the chapter. It was possible only because of support from all OB, EB, senior teachers and all members of Pediatric Neurology Chapter.

Let the fete continue with Dr. Lokesh Lingappa, (Chairman 2020) and let us all work for the best of the society

At the outset I must thank you all for the whole hearted support and cooperation given to me and to the chapter. The chapter has emerged as the most vibrant ,academically active and disciplined chapter over last decade or so. In last couple of years the chapter has added nearly 150 new members. This reflects the popularity of the chapter amongst pediatricians . Also it is judged by the strength and attendance of the chapter activities like 4 CME, 3 Conferences and 9 workshops in year 2019.

As a grassroot worker of IAP I have always believed that knowledge spread and multiplies by sharing, and so events related to updates must be made by conducting academic programmes. On this note I am glad to inform you all that several CME have been planned across the country in various zones in next year. I need your constant support and help to make these programmes successful by active participation. As you all know that our chapter is successfully organizing its National conferences every year and this year it is scheduled on 2nd -4th October at Kolkota. I wish the organizers a grand success.

This edition of Journal is dedicated to Mix Bag topics in which newer trend and tests are discussed with case based diagnosis and utilitles by our eminent authors across country. Recently we have extended our editorial board to make ensure zonal representation and contribution in our journal. I thank them for their constant support to materialize this into this volume. I want to thank my editors Dr. Vinit Wankhede and Dr. Amarjeet Wagh for their hard work to make this journal a ground reality since last 4 years. I urge you to share articles, case reports and studies so that we can bring the best in ourselves in front of all IAP ans. We have recently updated the contact list of entire members of neurology chapter and soon you will be receiving the hard copy of this journal periodically once its released.

With the help of you all we hope the chapter to achieve new heights in future.

Friendship First!!
Jai IAP Jai Hind!!
Thanking You,

Dr. Vasant Khalatkar

Organizing Chairperson PEDICON 2018 Nagpur,
National President COMHAD, UK
National Secretary Pediatric Neurology Chapter,
Vice President IAP ID Chapter,
Consultant Pediatrician & Neonatologist
MD (Ped), FIAP, FICMCH
PG Dip. in Ped. Inf. Disease (UNSW)
Fellow Guide DCH,
National Secretary IAP ID Chapter 2016-17
Secretary General COMHAD, UK 2016-17-18
EB CIAP 2009-10, 2014-15,
Editor Pediatric Neurology Bulletin,
West Zone Co-ordinator SOS HOPE,
National Trainer:PSPID, R-PSPID, RTIGEM, ASPP, SOV, ASOV, IAPVAC, NRP, RAT, IAP APT, AMS, EPID, Pediatric Companion, Sath-Sath & many more.